First I just wanted to say thank you to Gail at
My Repurposed Life
for featuring my house number sign. Every week she has a really great link party (which is going on NOW) so you should check her out. She also has great tutorials on everything from furniture making to using a Silhouette and applying vinyl including some video tutorials which is on my to do list.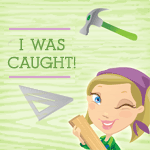 Second, I wanted to update ya'll on my experiences with
whoopdwhoop
. I talked about the site when I first signed up and have had so much fun with it since. I have listed several vinyl decals made with my silhouette and the book cylinders I showed you how to make
here
. I have sent off one decal and a set of three books and with my whoops I have gotten this awesome ring:
And I am waiting for this purse to come in the mail:
The site is growing crazy fast so there is constantly new things to want to swap for. I am definitely loving it.
Oh! and thirdly, These Creative Notions has gotten
22
23 followers! I am so stinkin excited. Thank you everyone! I am plotting a giveaway to celebrate but I've just got to decide what to give away. Any suggestions?